Let's enjoy, Real-time bondage




The core and deep world of SM, experience right now.
Realtime Bondage Download Unlimited
More than 360 maniac SM videos, unlimited viewing at $ 45.00 a month.
— Of course you can join from World —
Real-time bondage admission procedure.
First of all, >> Please access "Real-time Bondage" from here.
step 1
Access the Realtime Bondage page and click on "JOIN NOW" at the top left.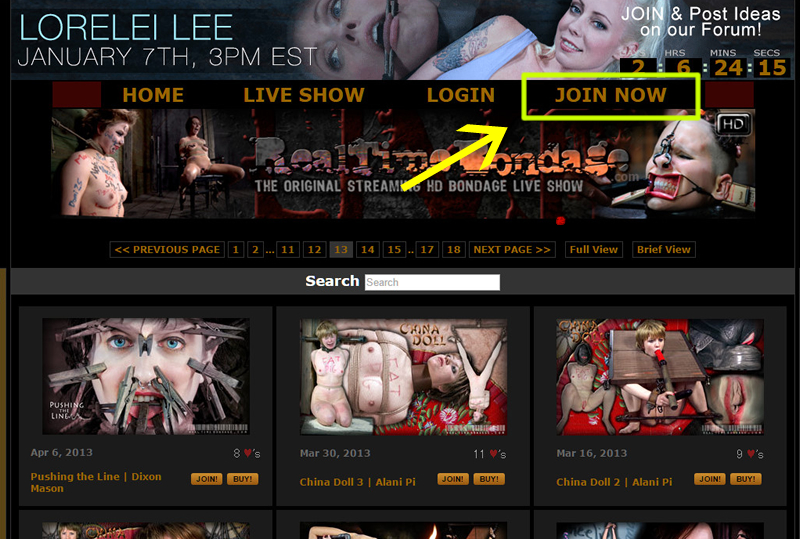 Step 2
2. Enter in the left item "Create Account".
For Chosse Username :, enter your username. (This can be anything (nickname etc)
Choose Password: Here you enter the password you want to use for login after joining.
E-Mail Adrress: To, enter your email address.
The item below that, "Send me special offers and newsletter by email." Means whether you will receive special offers in the future (ie campaign / discount information etc.), check if you want to receive them Put (It is not necessary to check if unnecessary)
The check item immediately below it, "I am at least 18 years of age." This is an age confirmation. Of course I think you are over 18 years old, so be sure to check here.
Below "Payment Type", there are 3 options as follows, so check the appropriate items (I think that most people are "Credit Cards")
Payment Type:
Pay With PaySafeCard
Pay With SEPA
Credit Cards
— Choice of membership plan —
1 Month membership, 3 Month membership, 6 Month membership From these 3 plans, you can check the one you like.
Finally, click the link "Click Her To Join Today >>".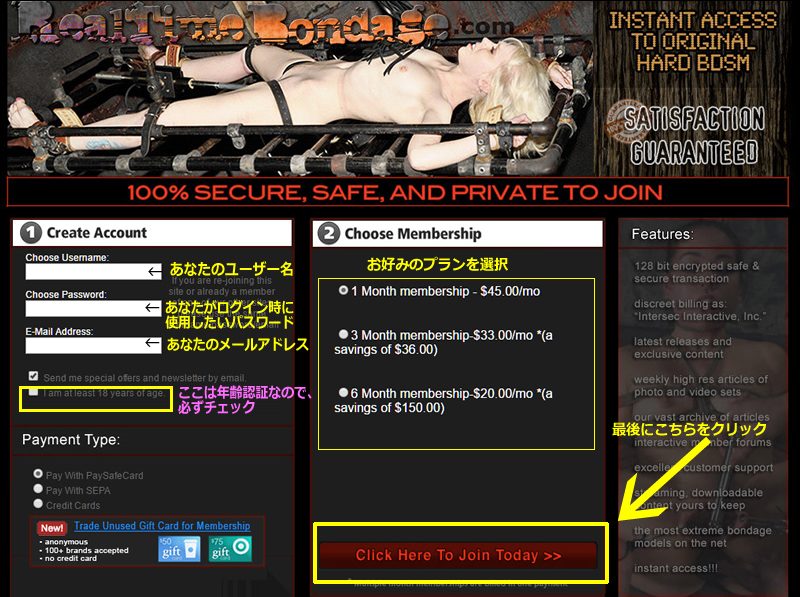 Step 3
3. Payment screen:
It should automatically be displayed in Japanese here, but if it is not displayed in Japanese, please click the "National Flags (Japanese Flags)" at the bottom of the page. Switch to the word.
Enter your email address, credit card number, security number (card reverse side authentication code), etc.
※ Is "Remember Me?" Next to me remembered in the browser? This means that it doesn't matter much if you check it or not. Then enter "card expiration date". Then enter the address and the city.
The city will be, for example, "Tokyo" if you live in Tokyo.
Next, select the state :: but basically, in this pull-down menu there are only "US / US, Canada, Australia, France, Germany, so there is no choice. Select "France / Germany", which means outside this country (the country that does not fall under these). Select ZIP / ZIP code: (your zip code), country: (Japan). —– cross offer is displayed
Below this is a line of hard-to-understand text. This is a "cross offer".
This may be embarrassing, but it's a popular sales practice abroad so you don't have to feel suspicious. Rather, a fairly cheap offer price is presented, so it would be nice if you would like to use it.
4. Make sure there is no mistake at the end, and click "SUBMIT MY INFOMATION".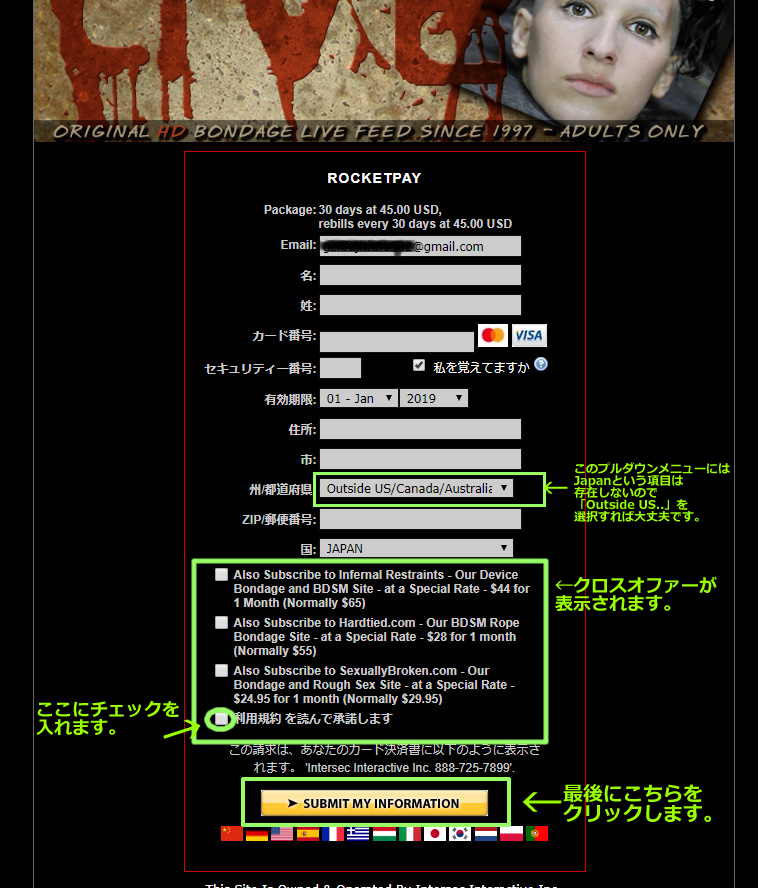 Step 4
When payment is complete, the text "Sucsess" will be displayed in a couple of seconds.
You will not receive a notification email such as membership completion. You will see a page with the following message:
******
TRANSACTION APPROVED! (Transaction has been approved!)
Welcom RealtimeBondage.com!
******
Next, from this page, click Login here-> Sexually Broken Login Page Link <– and watch the video immediately. However, if you just accessed the site from this link, you are not logged in yet, so click on the LOGIN link. A screen like this will be displayed. Enter your ID and password and login. Check "I'm not a robot".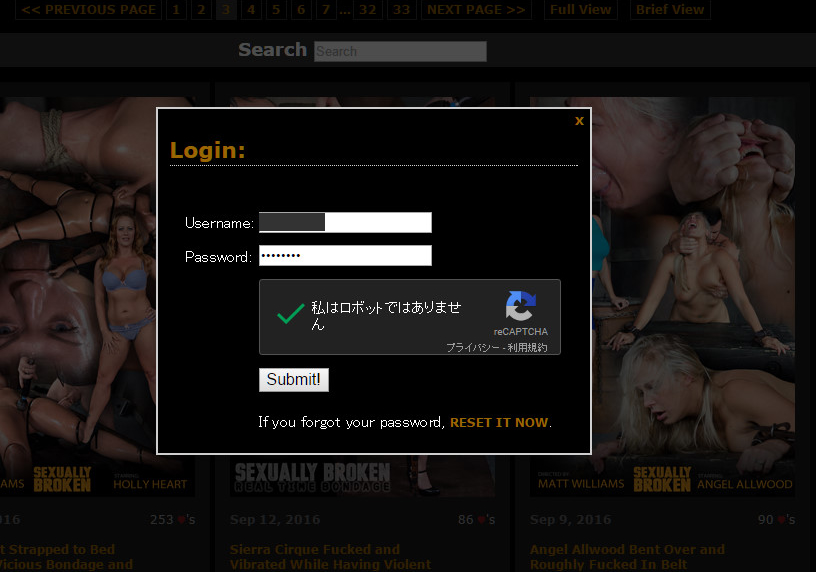 RealtimeBondage, operated by Intersec Interactive Inc., employs Rocketgate, an online payment system that has a high reputation and reputation overseas.
If you have any concerns or questions, please contact Intersec Interactive Inc. Support or Rocketgate customers. (※ but in English)
So please enjoy plenty of real-time bondage content.
that's all. Hundreds of titles of SM videos will be available soon. As mentioned earlier, InSex group sites are completely unlimited download. You can save as many downloads as you like. Please enjoy as much as you think.